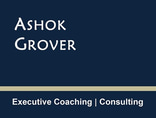 The Ultimate Guide to Business Jargon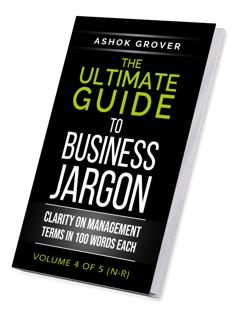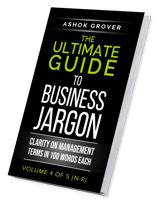 Quick! Can you tell me what the following abbreviations/terms mean?

Narcissistic leadership
OKR
Power Distance
Purple Squirrel
Queen Bee Syndrome
RFI, RFP & RFQ

If you were unable to answer one or more of these, then this book is for you.

"A handbook all managers should carry for reference." - Kedar

Imagine that you are sitting in a team meeting and the boss spits out an acronym or term you never heard of and directs a question at you. How will you answer?

Will you bluff your way out, leading to raucous laughter? Or simply act as if you didn't hear the question, leading to an embarrassing silence filled with giggles and snickering?

Both situations are to your disadvantage. And hence, you need the knowledge in the book to keep you prepared. So that you are never caught unawares in a team meeting, and can confidently answer any question your boss throws at you. And have the pleasure of seeing the confused and envious looks of your colleagues who couldn't figure out what the acronyms/jargon meant.

"While perusing business reports or management books/articles etc. one is often baffled with the meanings of many a common term used therein, which impedes proper comprehension of the idea/point sought to be conveyed in them. It constitutes a semantic barrier in communication. The book under review is an attempt by the author to decode such common lexicon." - Dr. K.R.S

Have you often felt that your business vocabulary is incomplete because you neither feel at home with drab dictionary definitions nor there is enough time for a deeper study of management terms?

Now you can have an amazingly enriching experience of learning about each of the common (and not so common) management terms in exactly 100 words. An ultimate guidebook for ultimate leadership!

"The author has defined both common and complex management concepts and terms in just 100 words, and that too beautifully." - Wg Cdr DP Sabharwal

This small book opens the door to the terminology of business/management jargon you come across in the world of modern business every day. It gives you access to the introduction to these terms for a fair understanding.

Yes, lots and lots can be and must have been written for each of these words. You neither have the time nor a need to go into so much depth. What is there in-between? This guide will give you an understanding that is good enough to move ahead with the desired comfort level.

"A wonderful book on management, well written and simply explained. A good guide." – Amazon Customer

Business professionals agree that the most crucial secret ingredient of a business/management dictionary is not the literal meaning but explanation in simple language. The KISS (Keep It Short and Simple) formula is very appropriate in this case. So, with a tool like this book, neither you need to dig out various resources nor seek the help of experts.

Here is an exhaustive reference guide that can easily fit your mind in a short time by following the "one-term each day" learning formula.

This small book is not simply a dictionary of business jargon. It is much more than a comprehensive dictionary. It is an essential tool for business students, teachers, new leaders, professionals and equally helpful for anyone interested in learning business/management terminology.

"It is especially useful for people in the corporate world. It also educates students and aspirants who would soon be joining the industrial/commercial fraternity." - Satadal

Effective communication is the key to professional development and management leadership. Therefore, this guide will be an essential inclusion in any collection of professional development books or management books for leaders.

Ready to stand tall with confidence during meetings and corporate presentations?

Please scroll up and grab your copy now!






Clarity on Management Terms in 100 Words Each